Who can use this feature?

Organization administrators, Workspace administrators, and Workspace users.
Available for all packages and customers who joined Level Access before February 20th, 2023.
In this guide, you'll learn:
What's remediation?
Remediation is the process of fixing accessibility issues in your digital property.
While testing helps you find the accessibility issues that need to be addressed, remediation is the key activity that makes your product more accessible and inclusive. Effective remediation is clear-cut and organized.
What are projects and tasks?
The platform uses projects and tasks to support your remediation. Projects and tasks help you organize your test results and make findings actionable.
Projects are buckets that hold tasks and track overall progress. They keep your remediation organized in whichever way you choose and give you a high-level overview of where you're at.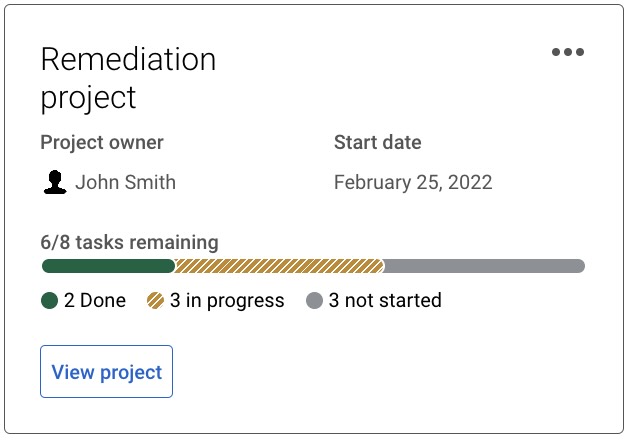 Tasks are findings converted into actionable items. They make findings tangible and provide space to define the fix, delegate, and track progress.

How to use projects and tasks
Before using projects and tasks, you'll need findings. Get findings by running an automated scan or wait for your manual evaluation results.
Step 1: Review your scan results

Take a look at your findings and determine the best way to organize your projects. Consider time sensitivity, resources, departmental structure, and remediation plans.

Step 2: Create a project

Once you have a plan for how you want to organize your projects, you can create a project.

Step 3: Create tasks from your findings

Now that your project is set up, create tasks from findings.

Step 4: Assign tasks

Now that the finding is an actionable task, assign the task to a workspace member.

Step 5: Update the progress indicator

As you move through remediation, keep the task progress up to date. All tasks are automatically set to Backlog / Reopened. Update the task progress from the Project tasks page, the My tasks page, or directly in the Task details page.

If you use a supported issue tracking system, push tasks into that system and manage them there.
Tips for projects and tasks
Review your automated or manual results first and then create a project.

The results might offer some insight on the best way to organize your projects. Organize by department, remediation phases, types of findings, or whatever way makes most sense for your company.

Use naming conventions.

Projects are sorted by project names and tasks are identified by project keys. Using a patterned naming convention makes it easier to navigate through projects and tasks.

If you're creating tasks from automated findings, group findings from the same rule into one task. There's no need to create dozens of separate tasks for the same issue. Grouping findings under one task makes the project feel more manageable.

Document progress or blockers in the comments section

. The key to effective remediation is communication. Use the comments section on tasks to provide updates on progress.
Summary
Congratulations! You now know about remediation and how to use projects and tasks.
What's next?