The platform lets you test for accessibility, review results, and manage your remediation all in one place. Below, we outline the basics you need to know to get started.
Overview of the platform
The platform is organized into one or more

workspaces.


Inside workspaces, there are

digital properties

and

projects.


Digital properties are the assets you want to make accessible, like websites, apps, or different environments.

Projects are custom remediation buckets that you create.


We test digital properties against accessibility criteria called

rules. Potential rule violations are called findings

.

Automated scans organize findings under the rule they violate, whereas manual evaluations present each finding individually.


Findings are converted into

tasks

for your team. T

asks are organized by project.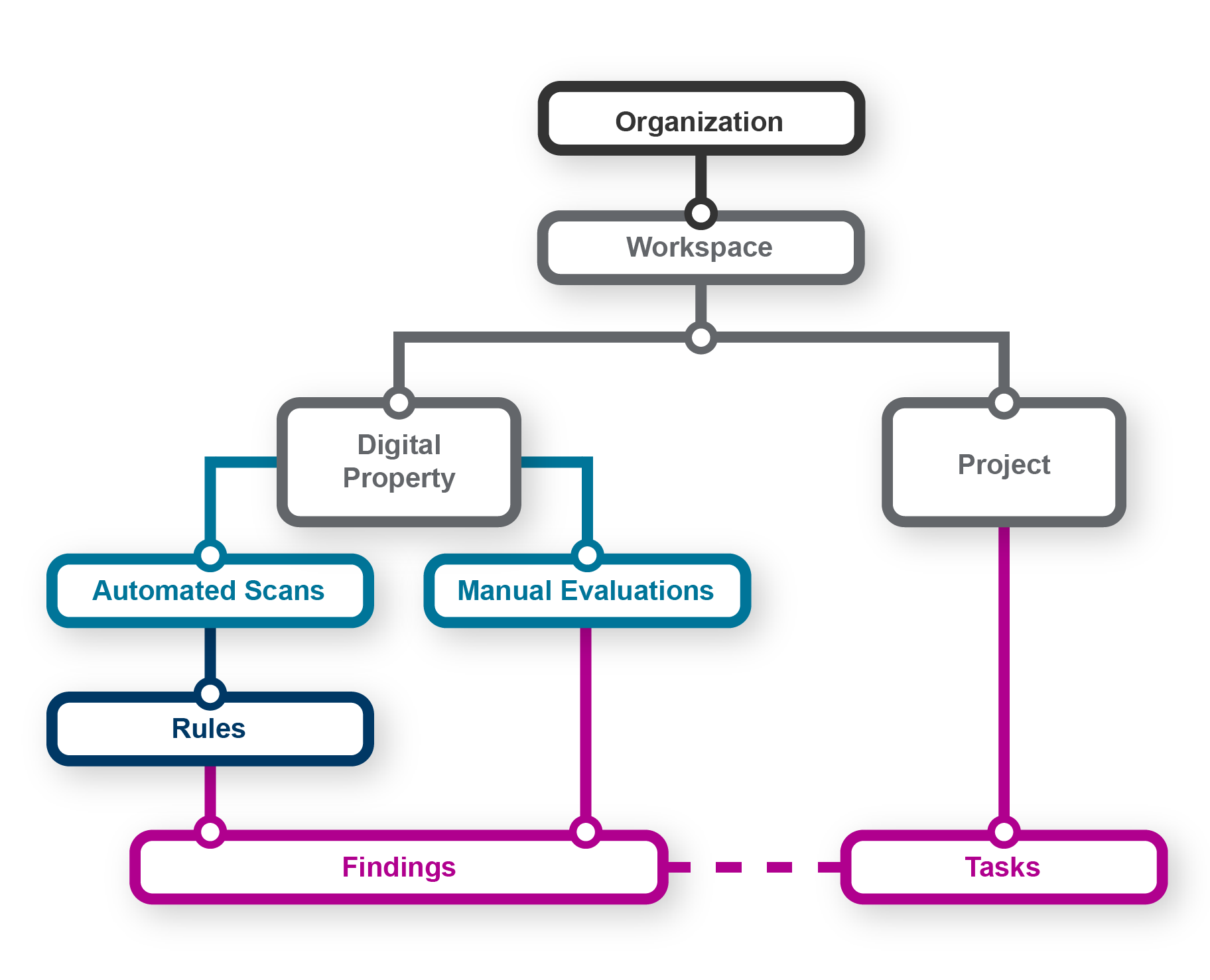 Platform basics
Workspaces
Workspaces hold all accessibility testing and remediation data. For a high-level view of your workspace, go to the Portfolio page. If you belong to more than one workspace, you can switch between them there.
Organization administrators, Workspace users, and Workspace administrators have access to data and functionality at the workspace level. This includes all the digital properties and projects within a workspace, but only Organization and Workspace administrators can do administrative tasks like adding users. Learn more about user groups.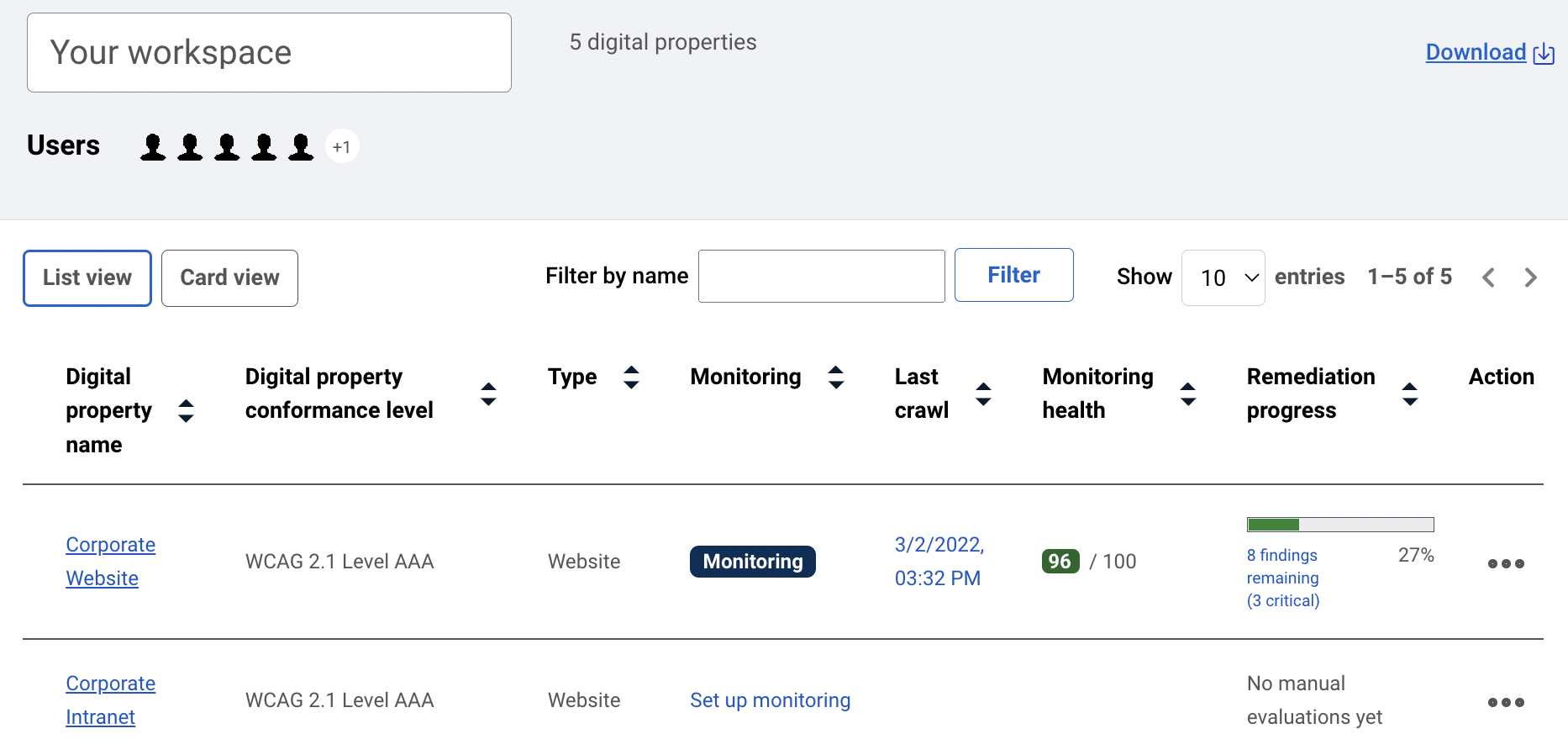 Digital properties
Digital properties are the assets you want to make accessible, like websites, apps, or different environments. You can have multiple digital properties in a workspace.
If your team member doesn't need access to an entire work space, you can add them as Digital property users. Digital property users have testing functionalities and can only access the digital properties they're added to. Learn more about user groups.
To run a scan or see info for a specific digital property, select that property from the Portfolio page or from the Digital Property menu. You can find the most recent accessibility stats for a digital property on the Dashboard.
Projects and tasks
Projects are buckets for remediation tasks. Once you've collected data from testing, you can create a project, convert findings into tasks, and start fixing issues across your workspace. Follow the progress of your projects from the Projects page.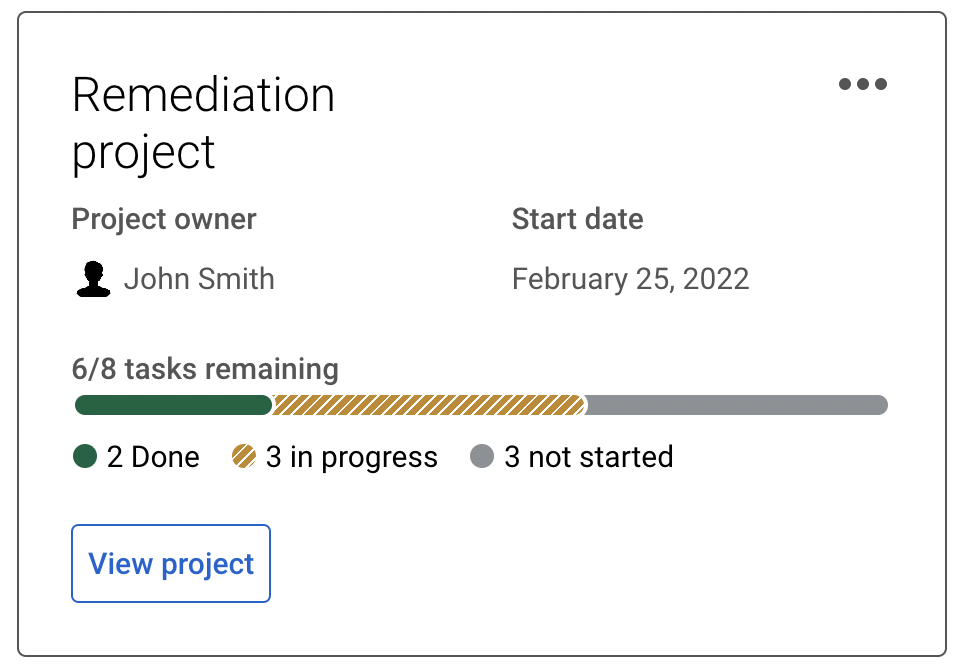 Accessibility testing basics
Automated testing
Automated testing is accessibility testing done by computer automation. The automation checks a website's code and produces a list of potential accessibility issues that need to be reviewed.
Automated testing is quick and thorough, but it has some limitations. It only works on web-based digital properties, so it can't scan apps or other non-web assets. It can also only capture about 25–30% of total accessibility issues–you'll need manual testing to capture the rest.
In the platform, go to Run automated scan to run a new scan or check scan results from the Scans page.
Manual testing
Manual testing is accessibility testing done by real people. During manual testing, our testing team uses assistive technology like screen readers to uncover accessibility issues. Manual testing best represents how people with disabilities can use your digital property.
Manual testing typically takes several weeks to complete but is extremely thorough. Once you're notified that manual testing is complete, head to the Manual evaluations page to check your results.
Rules
Rules are accessibility requirements for digital properties. They're created based on success criteria from the Web Content Accessibility Guidelines (WCAG).
Rules tell you what elements of your digital property might create accessibility issues and guide you toward fixing them.
In the platform, we scan and evaluate digital properties against rules to find those potential accessibility issues. Each violation of a rule is called a finding.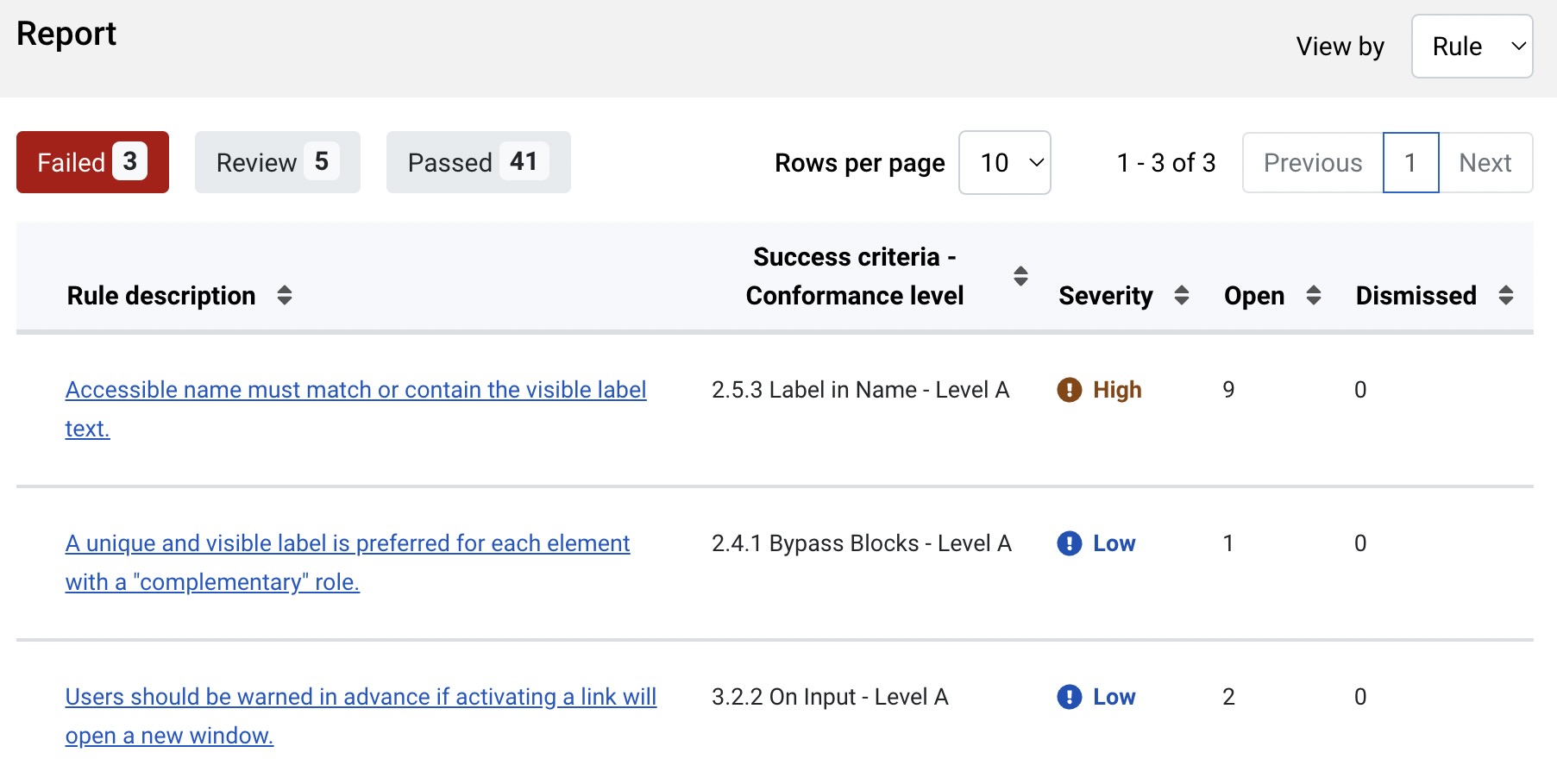 Findings
Findings are instances where rules are violated. The same rule can be violated more than once on a digital property, so you can have multiple findings from the same rule. Once you have findings, you can start your remediation.
Automated scan results list each finding under the violated rule. Select the rule on the Scan results page to get to the list of findings.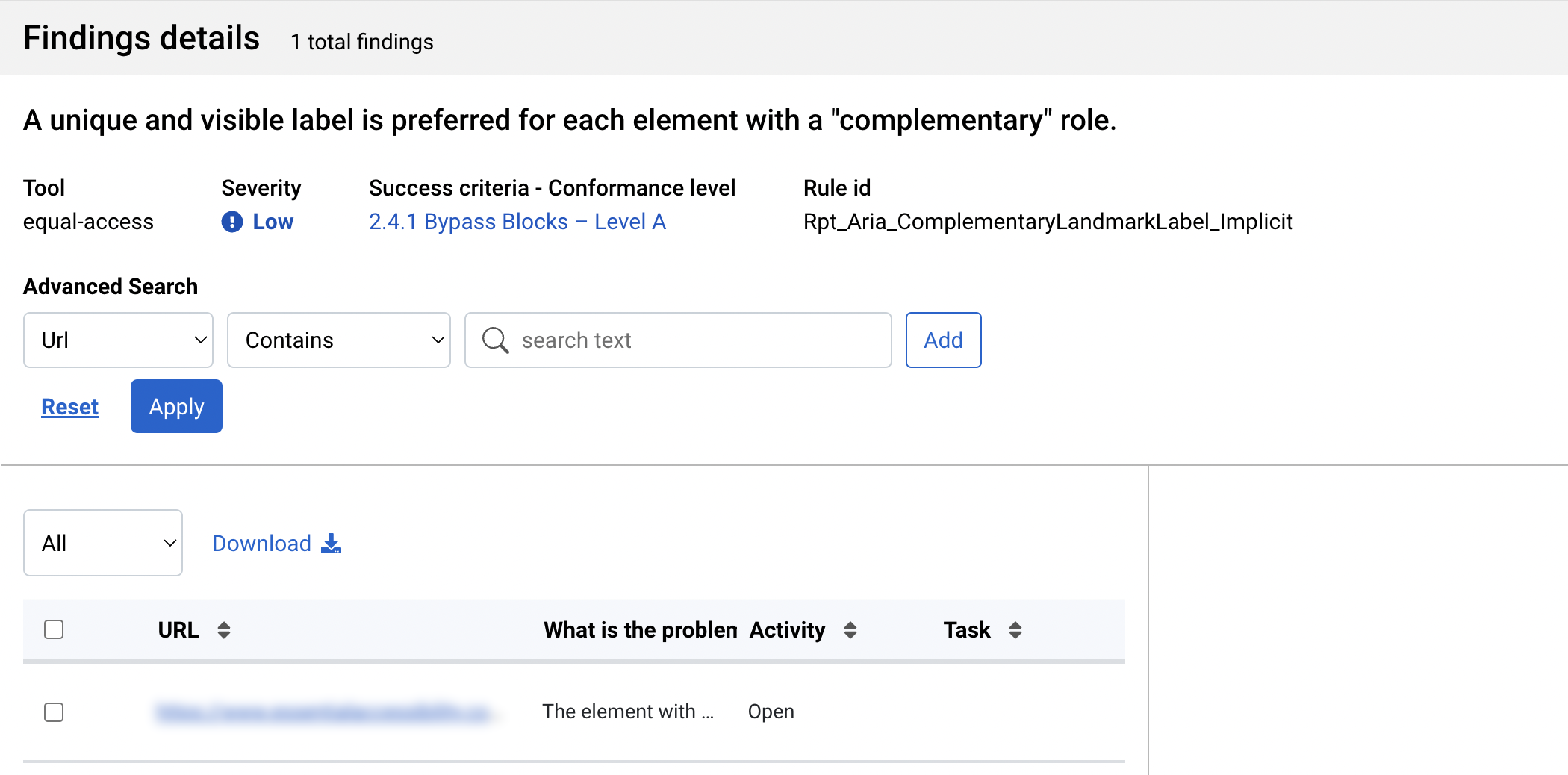 Manual evaluation results list each finding on its own and note the instances and frequency. Select the finding ID on the Manual evaluations page to learn more about each finding.
What's next?
To keep learning about the platform, run your first automated scan.
If you want to learn more about digital accessibility, head to the Access Academy for detailed courses.